...and the fight between Tech and Media has continued ever since.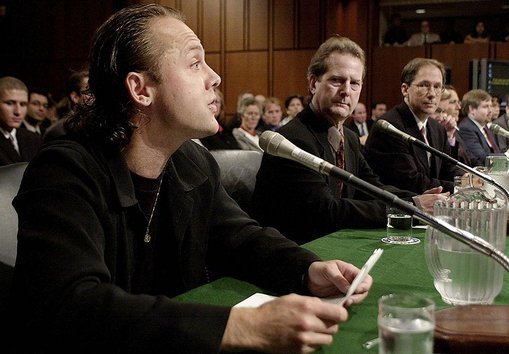 from theverge.com
:
April 13th, 2000. The day the music industry and the internet became best frenemies forever.
That's the day Metallica v. Napster, Inc. was filed in the United States District Court for the Northern District of California — a case that would come to national prominence, pave the way for Steve Jobs and Apple to create the iTunes and iPod juggernaut, and ultimately lock the tech and media industries in a battle that rages on to this day. When Taylor Swift complains about Spotify, the arguments are an echo of Metallica v. Napster. When Jay Z, Beyoncé, Kanye, Rihanna, and all of their friends go on about Tidal, that's an echo of Metallica v. Napster.
The internet upended the media industry, and it's still trying to recover. Metallica v. Napster was just the first attempt.
A very short history: in 1999, a kid named Shawn Fanning created a very simple peer-to-peer music sharing application called Napster. It was essentially just a glorified file browser; the barebones interface showed you MP3 files on various computers connected to the service and allowed you to download them. By default, your files were shared in return.
This, of course, was illegal. You can't distribute copyrighted recordings, even if teenagers and music nerds have been making tapes and mixes forever. The difference was in scale; while handing out a few mixtapes to friends resulted mostly in the industry stamping "HOME TAPING IS KILLING MUSIC" on the backs of cassettes, Napster posed a very real existential threat: if everyone was getting and sharing music for free, no one would ever buy it.
And for a band like Metallica, there were even worse repercussions: a leaked recording of the track "I Disappear" from the Mission: Impossible 2 soundtrack made its way onto Napster, and then onto the radio before its official release. This so incensed the band that it filed suit against the fledgling company, and drummer Lars Ulrich became an outspoken defender of artists facing the disruption of free internet distribution.